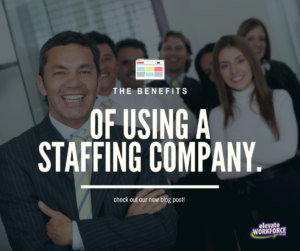 Do you have a small business with a seasonal need for temporary staffing? A medium-sized firm with an ongoing need for full-time workers? A large corporation requiring both temp and permanent employees, full and part-time, on an ongoing basis? Recovery operations in need of mega teams when disasters hit?
For businesses of every size, and with every type of staffing need, the choice to partner with a staffing company can be the best staffing-related decision you'll ever make.
Here are just a few of the many perks of utilizing the services of a staffing firm.
1. Access to an Extensive Network of Qualified Candidates
Because it's what they do all day, every day, staffing firm recruiters are skilled at locating the top performers in each industry. Because they're seasoned professionals who make a priority of staying abreast of the latest trends, they possess the knowledge and experience to place qualified candidates in positions that meet the goals of both employer and employee. Because maintaining a "deep" pool of quality candidates is the focus of their business, a staffing firm will provide you with a much broader network of seasoned, highly trained candidates than you can reasonably access on your own.
2. Timely Response to Vacancies
Because of their vast database of pre-screened candidates, staffing agencies often fill vacancies in a fraction of the time it would take your company to complete the recruiting/interviewing/hiring process on your own. Time is money when it comes to critical positions being open – particularly when organizing disaster-relief teams. The chance of filling those essential positions in both a timely manner and with a "best fit" employee significantly increases when partnering with a staffing firm who's taken the time to understand your business's unique needs.
3. The Option of a Trial Period
Consider how the benefit of a trial period can reduce the risk of a less-than-fitting hire. Many staffing agencies offer a pre-determined trial period that allows for a front-row seat to observe the new hire's skills, character traits, fit within the culture, etc., before making a permanent decision.
4. More Time to Manage the Business
Wouldn't you rather spend your workweek growing the business, serving your clients, and strengthening your company's brand, then spending countless hours filling holes in the company's permanent roster or seeking temporary help for the busy season? By trusting the entire recruiting process to a professional agency who will efficiently supply the employees who will
maintain your high standards of production and customer service, you can focus your time and energy on managing the business.
Let Elevate Workforce be your "fresh approach" partner in staffing. We specialize in the rapid-response provision of quality workers, best-fit matches, workforce flexibility, and safety, all backed by our 30 years of experience. Contact our team today.